Pediatric Rash and Infection Treatment Questions and Answers
If you or your child has an infection or a rash, come to Minor Emergency of Denton today! Our team of kind and caring staff are experienced in treating infections, and can help you or your child find the relief they need! For more information, please

call us

or simply walk-in!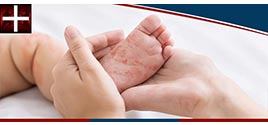 It can be disconcerting to see a rash appear on your child, especially if it is accompanied by other negative symptoms. In such cases, an urgent care clinic can provide quick and effective treatment to prevent the rash from spreading or getting worse. At Minor Emergency of Denton, our doctors and medical professionals have a wealth of experience and expertise in providing high-quality treatment for pediatric rashes and skin infections.
How do you treat a rash on a child?
In many cases, a child's rash can be treated at home by gently cleaning the rash and using over-the-counter (OTC) medication for pain relief or anti-itch creams as recommended by your child's pediatrician. However, some rashes on children require medical attention. In such cases, your child's pediatrician may provide prescription medication for a more robust response to the skin infection.
If your child's rash does not require medical attention but you are unsure of how to properly care for the rash at home, please feel free to call your child's pediatrician or visit an urgent care doctor for medical guidance and advice. Our doctors and medical professionals at Minor Emergency of Denton would be pleased to provide advice and guidance on at-home remedies for minor rashes and skin infections.
How do I know if my child's rash is serious?
Since it is not always clear whether a child's rash is mild or serious, it is best to err on the side of caution. Additionally, it is helpful to know the signs that indicate a serious rash or skin infection. As such, some accompanying signs that your child's rash is serious include the following:
Blisters, discharge, or pus oozing from the rash
Bruises without any apparent injury
Changes or difficulty with breathing
Fever
Hives spreading all over the body
Loss of appetite
Painful, red, and swollen rash
Peeling rash contained on the palms or soles of the feet
Rash that does not improve within a few days with or without OTC treatment
Swelling in the mouth or face
Swollen, tender lymph nodes
Widespread rash
Your child is zero to six months of age
With that in mind, if you notice any of the above symptoms with your child's rash, you should seek immediate medical attention. If your child is having trouble breathing or the rash is rapidly spreading, call 911 or go to your nearest emergency room.
What can cause a rash all over a child's body?
If your child has a rash all over their body, they may be dealing with a severe allergic reaction known as anaphylaxis. An anaphylactic allergic reaction can occur from food, medicine, insect bites, and other allergens. Other causes of a widespread rash could include chickenpox, hand-foot-and-mouth disease, scarlet fever, or viral rashes like roseola. While a widespread rash is not always serious, you should seek medical care as soon as you can for your child to ensure the rash does not cause significant problems.
When should you worry about a rash on a child?
It is common to worry about any rash that appears on your child. However, there are times when that worry is warranted and other times when the rash is relatively harmless. With that in mind, times that worry is warranted are if the rash has become infected, your child is experiencing significant pain, difficulty breathing, or a high fever, or if the rash is widespread.
If you are concerned about a rash on your child, our medical doctors and professionals at Minor Emergency of Denton would be pleased to provide quick and effective medical care to ensure the rash is dealt with and does not cause your child any problems. Please feel free to come to our clinic for a walk-in appointment at 4400 Teasley, Ln 200, in Denton, Texas. We serve patients from Denton TX, Corinth TX, Highland Village TX, Little Elm TX, Flower Mound TX, Lewisville TX, and Southlake TX. Looking forward to serve you!
Additional Services you May Need