Minor Emergency Services in Denton, TX
When you visit our Urgent Care & Walk-In Clinic in Denton, TX, you can expect that our caring and compassionate staff is ready to treat each patient's healthcare needs. Our urgent care and walk-in clinic is prepared to treat a variety of illnesses and injuries. Our urgent care facility gladly offers care to children, adults, and seniors. For more information, please contact us or simply walk in! We are conveniently located at 4400 Teasley Ln #200 Denton, TX 76210.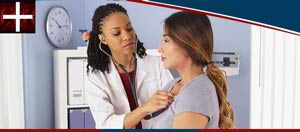 Not all emergencies are major emergencies; however even minor emergencies need to be attended to immediately. When you have a minor emergency, like a non-life threatening illness or injury, you need to come to the experts at Minor Emergency of Denton. Our state of the art urgent care center is available every day of the week to treat you and your entire family for a variety of ailments. When your regular doctor isn't available or has appointment times that force you to take a day off, visit our walk-in urgent care center. No appointment is needed! Unlike an ER, you'll be seen promptly and spend less on treatment without sacrificing high-quality care. With extended evening hours, we are the convenient choice when you need immediate medical attention.
In addition to being one of Denton, TX's best places to go for urgent care, we also offer a variety of other everyday services to our neighbors when they need them. Physicals are a very popular service we help patients with every day of the week. While these thorough medical exams are easily administered, they can be challenging to schedule during sometimes of the year. If you have a looming deadline to submit a physical for school, a sport, or as a pre-employment requirement, come to Minor Emergency of Denton today for immediate assistance. Bring in your forms, and we'll fill out all paperwork after a thorough medical exam. Do you need a DOT Physical for your Commercial Driver's License? Our doctors are certified DOT Physical providers and can assist you in this vital step. Our on-site lab can process the screenings and tests needed for a DOT Physical or any other physical that requires it. Don't miss out because you weren't able to get a physical!
Our onsite lab can not only provide quick screening and testing for physicals, but we can also test you for a variety of other things like the flu, strep throat, mono, TB, or pregnancy. We have several rapid tests available that can be processed while you wait. Our lab allows our doctors to give you quick answers and an accurate diagnosis. We'll send you home with a copy of the results and can forward them to your regular doctor upon request.
We also have a digital x-ray available seven days a week with no appointment needed. We can check your injuries for fractures. By identifying any broken bones, we can make sure your injury is stabilized, so you heal properly. Missing this can cause your broken bone to heal incorrectly and possibly result in long-term damage. Come in today for a quick x-ray and let us make sure everything is okay. We'll send you home with copies of any images we take and can also forward them to your doctor upon request.
Minor Emergency of Denton is located at 4400 Teasley Ln #200 Denton, TX 76210. We are open Mon–Fri: 8am to 8pm, Sat: 10am to 5pm and Sun: 12pm to 5pm. We accept most major insurances and have self-pay options available for the uninsured. Do you have questions about your insurance or the services we offer? Contact our friendly staff today. We look forward to meeting you!
Insurance Information
Patient Services
Contact Us
Dr. Andrew J. Blankenau, MD