Flu Shot Clinic in Denton, TX
If you are looking for a Flu Shot Clinic in Denton ,TX, then head over to Minor Emergency of Denton, we offer effective flu shots. We are open 7 days a week & look forward to treating you, simply walk-in or call us. We are conveniently located at

4400 Teasley Ln #200 Denton, TX 76210.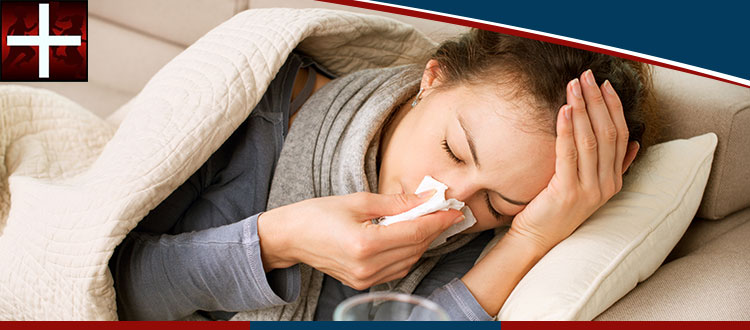 No one wants to spend days or weeks laid up with the flu. Sure, you can catch up on your binge-watching of your favorite shows, but it's no fun doing that when you feel awful. The best way to fight the flu in the Denton, TX area is not to get it in the first place! Minor Emergency of Denton has flu shots available throughout the year to prepare your body for the upcoming flu season. Since the flu changes from year to year, we always receive the latest batches of flu vaccine to counter this year's flu bug. Unlike other vaccines, you must get a flu shot every year to maintain the most protection from the flu.
The best part of coming to our urgent care center for a flu shot is that no appointment is ever needed. Come to our clinic when it is convenient for you for a flu shot. It's covered by most major insurance companies, and often you won't have to pay a dime for it.
How do you know if you have the flu?
Common symptoms include:
Fatigue or tiredness
Headaches
Sore Throat
Cough
Fever
Runny or Stuffy Nose
Body Aches
You may be saying to yourself, "Wow, that sounds like a common cold or seasonal allergies." You wouldn't be wrong. Unfortunately, the common cold and seasonal allergies do share many of the same symptoms, making it hard to tell if you have the flu. The only definitive way to know for sure is to test for the flu at Minor Emergency of Denton. Once a positive result is returned, then the right medication can be prescribed to help you fight the flu. Otherwise, you risk the health of your friends, family, and coworkers as the flu can be quite contagious. Rapid flu test are available at our facility seven days a week.
Why should I get a flu shot if I am healthy? Who should get a flu shot?
Unless your immune system is compromised and is not functioning correctly, everyone should get a flu shot. Children should get a flu shot because they are exposed to germs and virus throughout the day, especially when they attend school. By giving them a flu shot and preventing influenza, you'll have them miss fewer school days because of sickness. Senior citizens, assuming their body can tolerate a flu shot, should always get one before flu seasons starts. As you get older, the flu is much harder for your immune system to fend off. A bad case of the flu may cause complications in senior citizens. You should seriously consider getting a flu shot even if you are a young, healthy adult. Flu is very contagious, so if you are protected from getting sick, you are also protecting others who may not be healthy enough to receive the flu shot in the Denton, TX area.
Minor Emergency of Denton's Urgent Care and Walk-in Clinic is located at 4400 Teasley Ln #200 Denton, TX 76210. We are near the Walgreens Shopping center on the corner of Hickory Creek Road and Teasley Lane. We are open: Mon–Fri: 8am to 8pm, Sat: 10am to 5pm, Sun: 12pm to 5pm
Our center accepts most major insurances, and we have affordable self-pay rates if you are uninsured. Do you have questions about the flu, flu shots, or rapid flu tests? Call our friendly staff today. They will be more than happy to answer any of your questions.
We look forward to meeting you and helping you fight the flu!