Asthma Treatment Questions and Answers
Whether you are young or old, living with asthma is a bothersome and challenging path to tread. Not only can the symptoms of asthma keep us from doing what we love and enjoying life, but they can also become life-threatening! If you require asthma treatment in Denton, TX from trusted and professional doctors, we can help at Minor Emergency of Denton. For more information, please call us.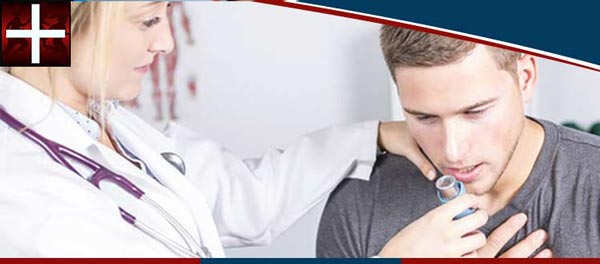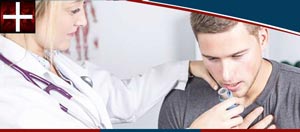 Table of Contents:
What is the main cause of asthma?
How do you get asthma?
How is asthma diagnosed?
Can asthma be cured?
How do you treat asthma?
Breathing is such a fundamental function that most of us do not even realize we are doing it until we think about it. This oxygen-providing body operation often gets taken for granted until we find ourselves short of breath. Unfortunately, this is a common occurrence for those living with asthma. It is estimated that around 25 million Americans have asthma; 20 million adults and 5 million children and adolescents. This means that 1 in 13 Americans live with the chronic condition, which stresses how important it is to properly manage it.
What is the main cause of asthma?

Asthma is still a relatively unknown condition; no one knows exactly what causes asthma. Asthma tends to run in families and may be passed down genetically. Environmental factors may also play a key role. Scientists continue to search for a definitive answer as to what causes asthma. However, there are certain key factors that directly contribute to asthma's development, including:

Genetics — Asthma tends to run in families. Genetics play an important role in causing asthma. If an individual's parents have asthma, then they are more likely to develop the condition as well.

Allergies — Some individuals are more likely to develop allergies than others, particularly if either one of their parents have allergies. Certain allergic conditions are associated with people who develop asthma.

Respiratory Infections — As the lungs develop throughout infancy and early childhood, certain types of respiratory infections have been shown to cause inflammation and damage the tissues of the lungs. If a respiratory infection leads to damage during infancy or early childhood, it can have long-term implications on lung function.

Environment — Another link to developing asthma is when contact with allergens, certain irritants, or exposure to viral infections occur when the immune system is not fully mature—during infancy or early childhood. A similar environmental factor exists for adults: Exposure to certain chemicals and dusts in the workplace may also play a significant role in adult-onset asthma.
How do you get asthma?

Asthma is believed to be caused by a combination of genetic and environmental factors, including:

– Allergens (animal dander, dust mites)
– Chemical fumes (chlorine, ammonia)
– Air pollution (second hand smoke, gas emissions)
– Workplace exposures (latex, building materials)
– Obesity
How is asthma diagnosed?

The first step doctors take when diagnosing asthma is discussing medical history with the patient and performing a physical exam. They may order a lung function test or an x-ray of the chest or sinuses. Trouble breathing is a serious concern and should be evaluated by a medical professional as soon as possible. Delaying treatment may lead to further health complications and necessitate more interventional treatment methods.
Can asthma be cured?

There is no cure for asthma. However, it is highly treatable: the chronic condition can be effectively managed with the use of asthma medications and avoidance of asthma triggers. Some children have been known to 'outgrow' their asthma, meaning they no longer show asthmatic symptoms when they reach adulthood. This is known as symptom remission.
How do you treat asthma?

The treatment for asthma depends on its severity, the age of the patient, and when symptoms are most present. Typically, medications are used to treat asthma. These include:

– Inhaled corticosteroids
– Leukotriene modifiers
– Combination inhalers
– Theophylline
– Quick-relief (rescue) medications
– Short-acting beta agonists
– Anticholinergic agents

If asthma is triggered or worsened by allergies, allergy medications may help.

If you have asthma or believe you do, come to Minor Emergency of Denton, TX, for treatment today. Our kind and compassionate professionals are experienced in treating asthma and can help you better manage your condition and improve your quality of life. Call us today at (940) 382-9898 to book an appointment, or visit our clinic conveniently located at 4400 Teasley Ln #200, Denton, TX 76210. Our clinic is open 7 days a week: Monday through Friday from 8 AM to 8 PM, Saturday from 10 AM to 5 PM, and Sunday from 12 PM to 5 PM. We serve patients from Denton TX, Corinth TX, Highland Village TX, Little Elm TX, Flower Mound TX, Lewisville TX, and Southlake TX. Looking forward to serve you!